ProVia Laser Via Drilling and Cutting Customization
PPI Systems offers a full selection of hardware and software options to ensure each ProVia solution meets your application needs.
Manual load, full size dual-head automation, and compact single-head automaton

Compact tray autoloader within the core system footprint.

Automatic pickup and vacuum zones for multiple panel formats.

Slipsheet pass-through handling for both autoloader styles.

Configurable for large panel and continuous web processing

Compatible with roll-to-roll web handlers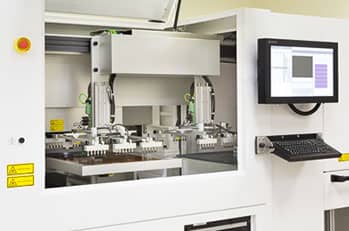 Integrated Inspection Microscope
A 2.3MP HD color camera can inspect microvias after processing. Zoom optics are designed for viewing microvias in the 50 – 200 µm diameter range. On-screen measurements can be made and images saved for later use. Powerful white LED light sources provide both coaxial and low angle ring illumination.
Flat-top Beam Homogenizer
As an alternative to the normal Gaussian intensity profile, flat-top CO2 spots permit drilling and pocketing operations with a very consistent process and less risk of sensitive inner layer damage. The user can even switch between Gaussian and flat-top spots within the same job.
Dual-head, Dual-panel Drilling
The single-laser systems (UV-only, CO2-only) can be configured with two independent galvo stations and two vacuum tables for dual-panel operation. The ProVia software is highly adaptable, able to process different jobs independently on two panels through two galvo heads.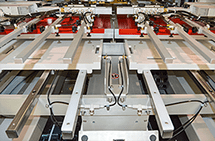 Barcode or 2-D Matrix Code Reading
Used for panel identification, and can be manual or automated.
Panel Thickness Measurement Probe
An ultra-reliable electro-mechanical height probe is available to measure / verify the panel thickness prior to processing. Helps prevent drilling the wrong panels or with the wrong job.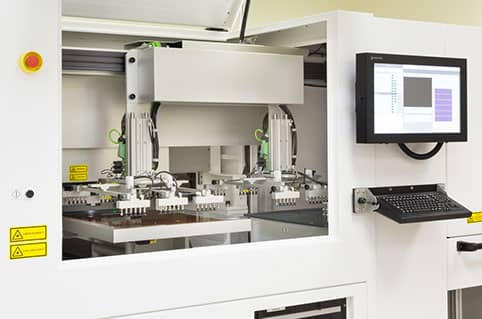 Networking Software with Automatic File Retrieval and Job Creation
The system can even accommodate a tray of mixed panels, using optional OCR or barcode to read panel ID and load the appropriate job from files on the system or network.